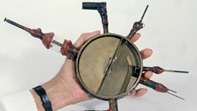 DURING THE PAST CENTURY, PARTICLE ACCELERATORS AND THEIR
TECHNOLOGY HAVE PLAYED AN ESSENTIAL ROLE IN DELIVERING THE
SCIENTIFIC ADVANCES THAT HAVE LED TO IMPROVED STANDARDS OF LIVING
AND WELLBEING. TODAY, ACCELERATORS IN VARIOUS CONFIGURATIONS ARE
BEING INCREASINGLY APPLIED AS TOOLS NOT ONLY IN THE LABORATORY
BUT ALSO IN HOSPITALS AND INDUSTRY. AS ACCELERATOR TECHNOLOGY
DEVELOPS, THE POTENTIAL FOR NEW APPLICATIONS IS EXPANDING, WITH
EUROPE IN A STRONG POSITION TO EXPLOIT THEM.