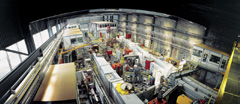 NEUTRON BEAMS ARE A KEY TOOL IN BOTH BASIC AND INDUSTRIAL SCIENTIFIC RESEARCH. THERE IS AN IMPENDING DEFICIT IN THE AVAILABILITY OF SUITABLE NEUTRON SOURCES IN EUROPE, TOGETHER WITH AN INCREASED DEMAND FOR MORE INTENSE BEAMS. A RANGE OF NEUTRON
SOURCES BASED ON ADVANCED ACCELERATOR SYSTEMS NEEDS TO BE
DEVELOPED URGENTLY TO MEET THESE NEEDS.